VickyJ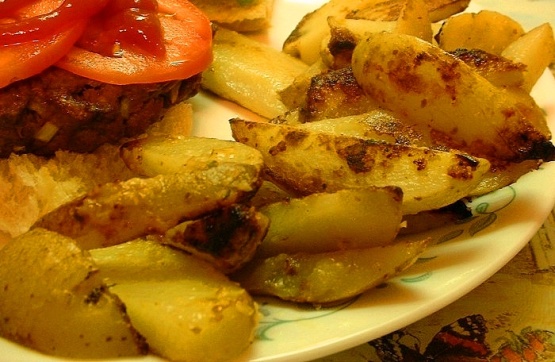 Crispy and spicy potatoes coated in French fried onions and parmesan cheese. Easy, fast and great flavor! One pound equals about 3 medium potatoes. Potatoes can be stored for several weeks at temperatures of 45F to 50F in a cool, dry, dark place. Light causes them to turn green!

These fries where great. The onions didn't stick very well but it still turned out great and i will make again. If your like me and have to much to eat in one sitting i suggest putting what you was in the oven and freezing the rest. i did this and the frozen tasted just as good.
3

medium potatoes, sliced into 1/4-inch wedges (about 1 lb)

3

tablespoons butter or 3 tablespoons vegetable oil

1 -2

tablespoon hot sauce, at room temperature

2

cups French's French fried onions, finely crushed
1⁄2 cup parmesan cheese, grated
Preheat oven to 400°F
Place potatoes, butter and Frank's RedHot Sauce in large resealable plastic bag; Seal bag and toss potatoes to coat.
Combine Fried Onions and cheese on sheet of waxed paper.
Coat potatoes in crumb mixture, pressing firmly.
Arrange potatoes in single layer in shallow baking pan coated with nonstick cooking spray.
Bake, uncovered, 25 minutes or until potatoes are tender and golden brown.
Serve with more hot sauce or mix 1 C ketchup w/ 1 or 2 T of hot sauce for a spicy dip.