Zinfandel-Braised Leg of Lamb (Slow Cooker)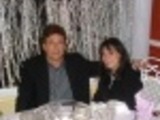 This is a real change of pace for lamb and for the slow cooker! By reducing the wine before placing it in the slow cooker, you give the dish a more rounded flavor.
Directions
Unroll lamb; trim fat. Sprinkle evenly with1/2 t. salt and 1/2 t. pepper. Reroll lamb; secure at 1-inch intervals with kitchen twine. Sprinkle evenly with flour.
Heat oil in a nonstick skillet over medium-high heat. Add lamb to pan; cook 6 minutes, turning to brown on all sides. Place lamb in electric slow cooker.
Add juniper berries, allspice, and garlic to skillet; cook over medium heat 2 minutes or until garlic is lightly browned. Add wine to pan, scraping pan to loosen browned bits; cook until reduced to 1/2 cup (about 3 minutes). Scrape wine mixture into cooker; add basil and bay leaves. Cover and cook on LOW 8 hours or until lamb is tender.
Remove lamb from cooker; keep warm. Strain cooking liquid through a sieve into a small bowl; discard solics. Add remaining 1/2 t. salt and remaining 1/2 t. pepper to cooking liquid; stir. Remove twine from lamb, and discard. Break lamb into chunks with 2 forks. Serve lamb with cooking liquid over egg noodles.
Reviews
Most Helpful
Made for ZWT-8 as I'm esp fond of Icelandic lamb & adore my slow cooker. I've been slow-cooking lamb for 10 yrs, but there are differences in our methods w/the meat used & the finish. I suppose they can be found (or pre-ordered), but I've never seen a boneless & rolled leg of lamb. I've only seen bone-in lamb legs sold for oven-roasting or grilling. We do have what's called "supakjot" (literal translation = "soup meat"), but I promise you it's unlike any soup meat you've ever eaten. It's fantastic & includes the shanks, riblets from racks of lamb if the lamb chop tenderloin is removed, lamb cutlets, etc. That's what I used for your recipe & was faithful to it til I removed the meat to rest. The slow cooker lamb liquid is always richly flavoured & this was esp so. DH has a strong preference for coos cous vs noodles - So I strained the liquid, returned it to the slow cooker & added cous cous to absorb the liquid. Then I served the lamb meat w/the cous cous beside it. Both the lamb meat & the cous cous were outstanding! Thx for sharing this recipe w/us.

Five stars on ease of cooking! I was looking for something I could "set & forget", and this fit the bill. I don't have the greatest luck with the slow cooker, though, so my expectations were low. I didn't have juniper berries, so I looked on line for substitutes, and one suggestion was rosemary. How can you go wrong with rosemary and lamb? Also, I didn't have Zinfandel, I had a red blend of cab, merlot, and zin (Menage a Trois). Otherwise, I followed the recipe exactly - had a 2.5lb BLOL, etc. Mine was done after 6 hours. I turned it off until dinner time, then set it back to low. The "sauce" was very greasy - I had to degrease before using it. I found the lamb on itself to be very tender, but not very flavorful - it definitely needed the sauce on it. The sauce was very thin, I think if I make it again I'll thicken for more of a gravy consistency. I would definitely make it again for a non-grill option for BLOL.
Was just about to post this from March 2009 issue of Cooking Light. Thanks for saving me the typing.