Yule Log (Buche De Noel) Mccall's Cooking School
ccincalif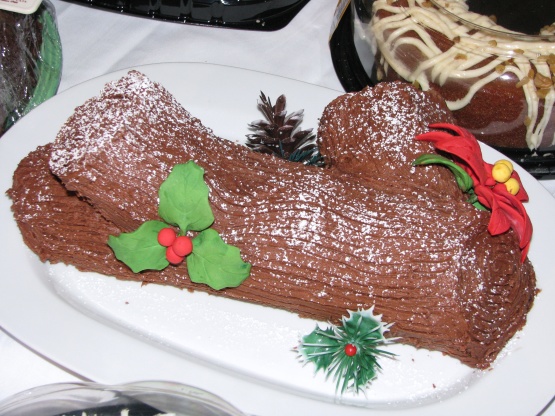 I cut this recipe out of the December 1973 (the month my DS was born) issue of McCall's magazine. If you're a chocolate lover and love to impress people with your artistry, this is the recipe for you! A lot of directions but don't be intimidated, it's actually quite easy. And my kids LOVE it! (Cooking time does not include chilling times.) EDITED TO ADD: After seeing all these lovely photos, I feel like my more simple version looks "under dressed"... I sprinkle powdered sugar over the un-iced "log" and serve whipped cream on the side of each slice.

I have been using this recipe from the McCall's Cooking School magazine cookbook since 1974. I make it every Christmas and it has become such a tradition that my nieces and nephews and daughters-in-law now include it in their holiday menus. Through the years I have collected decorations for the cake like little saws, little Christmas trees, holly leaves and berries and of course, a little 'logger'. My family usually can't wait to see it. The nice thing about this recipe is that I make it 2 days in advance of the big meal and then all I have to do is decorate and slice. MMMMMMMM! Goood! djointex ( a devoted McCall's cookbook fan)
Grease the bottom of a 15x10x1" jelly roll pan; line w/ waxed paper; grease slightly.
Preheat oven to 375.
In a lg electric mixer bowl, at high speed, beat egg whites until soft peaks form when beaters are slowly lifted.
Add 1/4 c sugar, 2 T at a time, beating until stiff peaks form when beaters are slowly lifted.
With the same beaters, beat yolks at high speed, adding remaining 1/2 c sugar, 2 T at a time; beat until mixture is very thick, appx 4 minutes.
At low speed, beat in cocoa, vanilla, salt, just until smooth.
With wire whisk or rubber spatula, gently fold cocoa mixture into egg whites just until blended (no egg whites should show).
Spread evenly in pan.
Bake 15 minutes, just until surface springs back when gently pressed with fingertip.
Sift confectioner's sugar in a 15x10" rectangle on a clean linen towel.
Turn cake out on sugar; lift off pan; peel paper off cake.
Roll up cake jelly-roll-fashion, starting with the short end towel and all.
Cool completely on rack, seam side down.
FILLING: Combine ingredients in medium bowl.
Beat with electric mixer until thick; chill.
TO ASSEMBLE: Unroll cake; spread with filling to 1" from edge; reroll.
Place, seam side down, on plate.
Cover loosely with foil.
Chill at least 1 hour before serving.
TO SERVE: Sprinkle yule log w/ confectioner's sugar and decorate with red candied cherries and green angelica "leaves". If you can't find angelica, use cut up green candied cherries.
NOTE:You may make the Yule Log up to a week ahead and freeze, wrapped in foil. Let stand at room temperature for 1 hour before serving.