"perfect Chocolate Cake" Mccall's Cooking School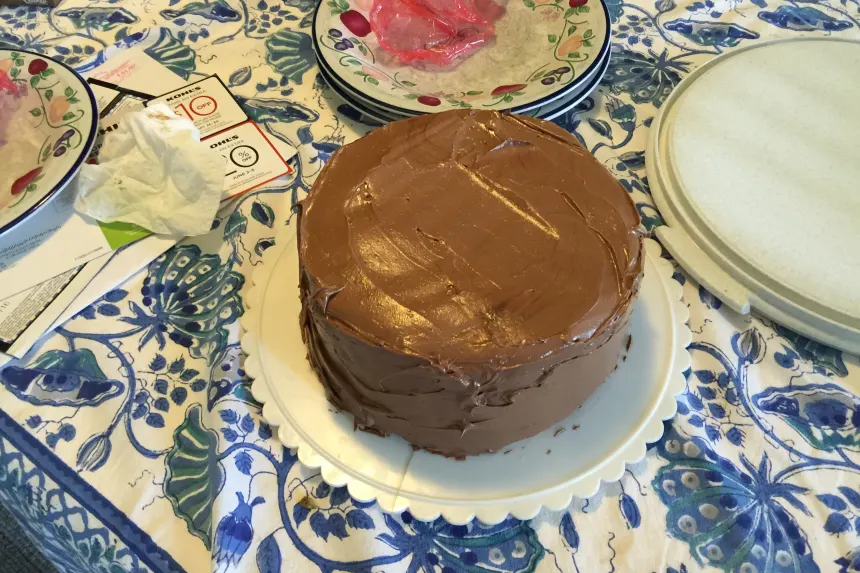 photo by bwedwards67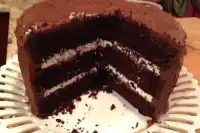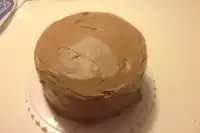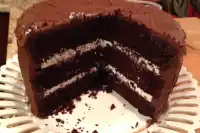 Ready In:

3hrs

Ingredients:

17
directions
In medium bowl, combine cocoa with boiling water, mixing with wire whisk until smooth.
Cool completely.
Sift flour with soda, salt and baking powder.
Preheat oven to 350°F.
Grease well and lightly flour three 9 by 1 1/2 inch layer-cake pans.
In large bowl of electric mixer, at high speed, beat butter, sugar, eggs, and vanilla, scraping bowl occasionally until light-about 5 minutes.
At low speed, beat in flour mixture (in fourths), alternately with cocoa mixture (in thirds), beginning and ending with flour mixture. Do not overbeat.
Divide evenly into pans;smooth top. Bake 25 to 30 minutes, or until surface springs back when gently pressed with fingertip.
Cool in pans 10 minutes.
Carefully loosen sides with spatula; 4. Remove from pans; cool on racks.
Frosting: In medium saucepan, combine chocolate pieces,cream, butter;stir over medium heat until smooth.
Remove from heat.
With whisk, blend in 2 1/2 cups confectioners' sugar.
In bowl set over ice(I use ice cubes) beat until it holds shape.
18. Filling: whip cream with sugar and vanilla;refrigerate.
To assemble cake: On plate place a layer, top side down;spread with half of cream.
Place second layer, top side down;spread with rest of cream.
Place third layer, top side up. To frost: With spatula, frost sides first,covering whipped cream;use rest of frosting on top, swirling decoratively.
Refrigerate at least 1 hour before serving.
To cut, use a thin-edged sharp knife;slice with a sawing motion.
And forget the swirls.
I think it looks gourmet just to spread the frosting.
It dries really dark and looks cool.
Somethimes I just drag a sharp knife across the top in lines and sometimes I leave it as it is. From McCall's Cooking School.
Reviews
I misplaced the recipe binder (I think I loaned it to someone) that I had this recipe in, and was very disappointed I could no find it. I was elated to find the recipe on your site. I have made this cake annually since my son was a little boy, it is a family favorite birthday cake. I have made it many, many times over the last 30 years and each time it turns out perfectly and tastes like food for the gods. .

 

This really is THE perfect chocolate cake; there are other recipes, but none yield results like this so easily and so consistently. If we must eat cake, let it be this.<br/><br/>A nice change of pace (I know, never mess with perfection, but give it some thought) is to use the frosting from McCall's Mocha Cream Cake. Combine well: 3 cups heavy cream (chilled), 1.5 Cups sifted confectionary sugar, .5 Cups sifted unsweetened cocoa, 1/8 tsp salt, 2 tsp instant coffee. Beat until stiff, refrigerate, covered, 30 minutes. Ice the cake as you like, with or without filling. The mocha flavor complements and nicely enhances the deep, deep chocolate flavor of the Perfect Chocolate Cake.Thanks McCall's, thanks Sassy, very nice.

 

This is my favorite chocolate cake! My mom would make it for me for Thanksgiving. She passed away in 06'. I found the recipe in her folder of recipes and made it - poorly- the first few times. The filling was too loose... I just made it again about 10 years later... added a bit more confectioners sugar and vanilla to the filling... PERFECT! I love this cake. Glad I found the recipe online... takes hours to make but so worth it!

 
Tweaks
I have been making this cake for years. It really is the best chocolate cake you ever tasted. I substitute vegetable oil for the butter just to save time and it is still wonderful. Always get asked for the recipe. The filling though I have found does not hold up the cake and not crazy about the icing so I make my own.