Wilton Butter Press Cookies

I love these simple little cookies with my afternoon tea. Very versatile too since you can color them or use whatever press attachment is appropriate for the occasion. For a super dainty cookie, use the bar plate in the press and press a long ribbon of dough onto a cookie sheet (ridged side up). Score the cookie dough at 2 inch intervals. (I use a pizza cutter, much easier than a knife) Once cool, drizzle melted chocolate coating over them in a zigzag pattern and dust with confectioner's sugar.
Directions
Preheat oven to 400°F
Thoroughly cream butter and sugar.
Add egg, milk, vanilla and almond extracts; beat well.
Stir together flour and baking powder; gradually add to creamed mixture, mixing to make a smooth dough.
DO NOT CHILL.
Place dough in cookie press and press cookies on to ungreased cookie sheet.
Bake for 6-8 minutes.
Remove cookies from sheet and cool on rack.
Makes 6 dozen cookies (but they're very small).
Most Helpful
I thought that the taste was okay, but the texture... hmm. Kinda soft and not crispy like I expected even though I cooked them for 10 minutes and made cookies even smaller than in the instructions, and the center was a little pasty. I know that my oven works well, and I followed the recipe exactly. So I really don't know what went wrong there. I'm disappointed, as this was my first try with cookie press cookies, and I had high hopes. Maybe next time I'll try baking them at a lower temperature but longer, and skipping the milk. Perhaps they were supposed to be tender, I don't know.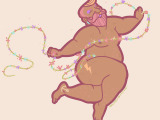 I had high hopes with a cookie with 3 sticks of butter, but alas, disappointment set in even before they were in the oven. I doubled the vanilla, using double strength vanilla also, and I still found the taste blah. I also had to double the milk to get the dough workable. I use a cream cheese cutout recipe that works well and guess I will go back.
A great little cookie that's big on taste.

Made for 24 Days of Cookies in KK's forum.