Very Berry Blueberry Smoothie
lazyme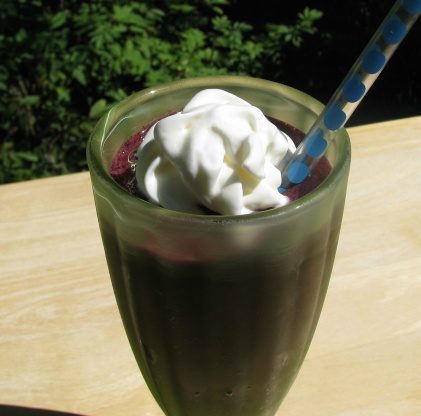 The frozen blueberries give this smoothie a little icy thickness and really chill it down. In addition, blueberries are very healthy: they are high in antioxidants and vitamin C. There also have been studies indicating that blueberries slow the aging process of the brain! Simple, delicious, and healthy!

I make a variety of smoothies all the time, but not usually with OJ, & I'm not sure why, because not only do I usually have some on hand, but making this recipes really lets me know how tasty it can be! Made pretty much as given, although I did triple it so there'd be 2 tall drinks at the end, & I was another one who increased the amount of OJ! Will certainly be making this again! [Made & reviewed in Zaar Cookbook recipe tag]
Add ingredients to a blender and cover.
Blend on low for a few seconds (about 5), then increase to high for 10-15 seconds. Make sure that the blueberries are all blended in!
Enjoy for breakfast, lunch, a snack, or dessert. Add a dollop of whip cream if you like!