Bayhill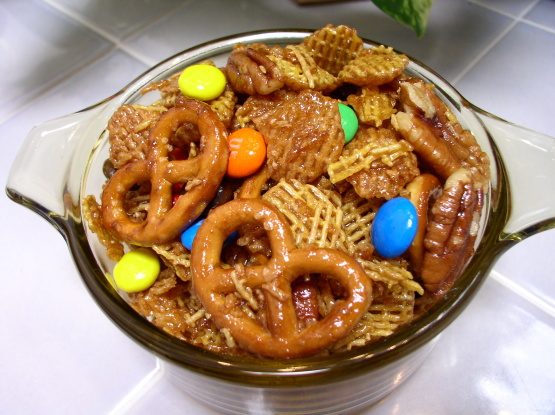 My sister made this and I have been making it because my kids ask me for it all the time. It is really good. The cooking time is for the prep time and the baking time. If you would like you can add more pretzels, pecans or m&m's. I use the twisted pretzels also.

This was ok. Unfortunately, most of it burned during the second 10 minutes of baking. The part that was unburned tasted better with the m&ms added. I don't know if I'll make it again but it was worth trying.
Melt butter and add syrup and brown sugar. Bring to a boil and cook 2 minutes in a large saucepan. Turn off.
Add 1 box of Crispix cereal and 1/3 bag of pretzels and pecan halves and mix together.
Put on 2 large cookie sheets (I spray with pam first) and bake at 300°F for 10 minutes. Then turn with a spatula and cook an additional 10 minutes.
Cool and put in a bowl and add some m&m's.