Prose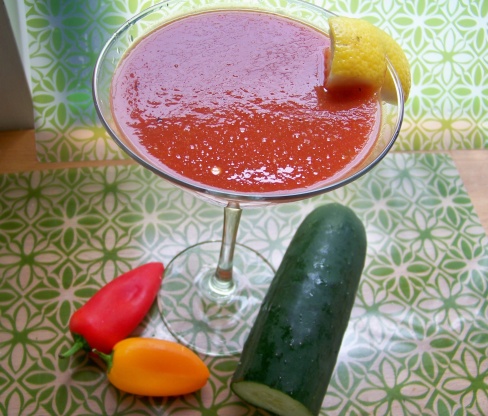 A great start to your morning! From Country Living magazine. Cook time is chill time.-

This was a pleasant surprise. I was wondering if I would like it, and I do. I cut in half, used 1 seeded tomato, a yellow pepper, some dried minced onion, 1 T lemon juice. Turned out great! I think 4 servings are 4 small servings. This didn't quite fill up my glass. Update: I tried this with V8 juice and doubling the cuckes. I think I actually like it better with the fresh tomato - it's thicker, more like a smoothie. With juice, it comes out like spiced up tomatoe juice.
Combine all ingredients in a blender and process until smooth, about 3 minutes.
Chill for at least 30 minutes.
Fill 4 glasses with ice and divide the smoothie mixture evenly among them.
Serve immediately. Enjoy!