Rita1652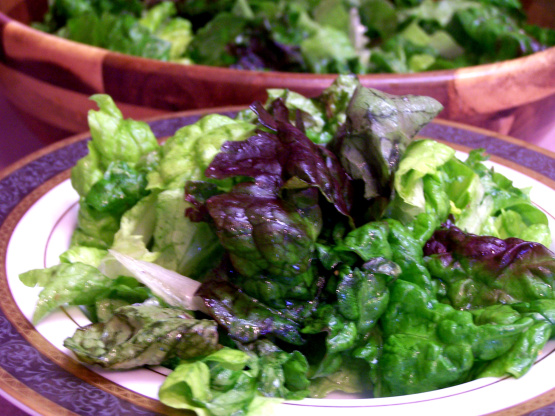 Although the ingredients sound unprepossessing; it is technique that makes this THE Salad. Be sure to pay attention to details to bring this to Olympian heights. Quantities give here assume that the salad is a major part of the meal, as in hearty bread-soup-salad dinner. If the meal has more courses, scale portion sizes down accordingly. THE Salad is at its height only very briefly, and after the moment has passed, it's passed and nothing in the world can bring it back…. Everyone should be sitting down and ready to eat before you start tossing THE Salad. And get the salad plates out of the freezer only as the salad is completed. This recipe is more of a technique with some fabulous secrets I learned from The Dairy Hollow House Cookbook. I never thought I would use a recipe to make a simple green salad….but I am so glad I did. I hope you are too! Enjoy!

Put 4 salad plates in the freezer to chill. Assemble all the ingredients as well as a garlic press, a big salad bowl, and a strainer for the lemon juice.
Wash the greens extremely well; check them over for any brown or old-looking edges. Using a salad spinner, spin the greens bone dry, then blot with towels; no moisture should cling. At least 75 percent of salad mediocrity comes from mot-quite-fresh greens that are not quite washed and then never completely dried.
Pour the oil into a large salad bowl. About 1 teaspoon per person should do the trick. Adjust, more or less, to your liking… Restaurants usually use a Tablespoon per person.
Put the garlic through the garlic press into the olive oil. Into the bowl, put the well rinsed, bone dry salad greens. Toss the greens, gently but with vigor, until each leaf glistens with olive oil. The oil seals in the greens' moisture and flavor, so that the ingredients will not immediately penetrate the leaves and for a few moments the greens will exist in a sublime state: Lightly coated, yet crisp.
Sprinkle the glistening greens with ½ to 1 teaspoon salt, several hearty grinds of pepper, the juice of half of the lemon squeeze through the strainer to catch the seeds (if it is particularly large or juicy lemon, don't squeeze out every drop) , and a small shake of Pickapeppa or Worcestershire sauce. Toss the greens a couple of times and taste. You may well need the juice of the other lemon half, a dash more salt, or an extra grind of pepper. Come on, add it, hurry up, time's a wasting!
Quickly get your salad plates from the freezer, divide the salad among plates, and immediately serve.