The Real Jamaican Jerk Chicken - Nearly Too Hot to Handle!
gertc96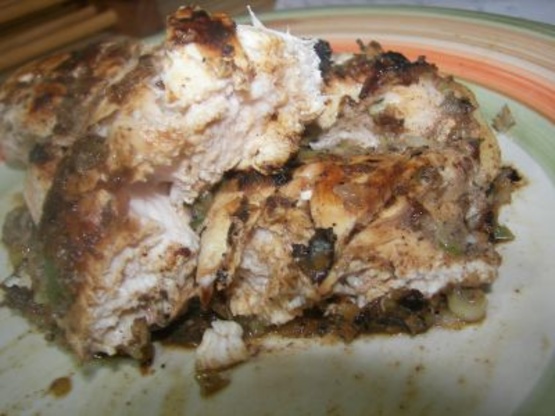 A classic Jamaican Jerk Chicken recipe, sent to me by a friend in Kingston, Jamaica! You can adjust the "heat" to your own requirements - and don't forget the Rum Punch! Try to use fresh limes wherever possible.....it makes such a difference to the taste. Edited to say: In response to a recent review, please note that this IS a GENUINE jerk recipe from a very good friend who lives in Jamaica - whom I have visited many times! However, this is NOT a "commercial" flavoured jerk seasoning mix. It is very spicy and may not suit those of you who dislike strong spices, such as allspice and nutmeg, which are quite strong! Feel free to adjust these seasonings if you wish - the taste may be more to your liking, if not 100% authentic! Thanks! :-)

This was really good.... I had never had jerk chicken before and was unsure of it at first.... The first night I ate it, I wasn't sure of the allspice taste if I liked that or not... My kids loved it and had seconds.... Well, we had a piece leftover and I had it for lunch the next day and I was sold.... It was really wonderful.... Thanks for sharing....
Cut the chicken breasts into chunks.
Place chicken in a medium bowl. Cover with lime juice and water. Set aside.
In a blender or food processor, place allspice, nutmeg, salt, brown sugar, thyme, ginger, black pepper and vegetable oil. Blend well, then mix in onions, green onions, garlic and habanero peppers until almost smooth.
Pour the blended marinade mixture into bowl with chicken. Cover and marinate in the refrigerator at least 2 hours.
Preheat an outdoor grill for medium heat and lightly oil grate.
Cook chicken slowly on the preheated grill. Turn frequently, basting often with remaining marinade mixture. Cook to desired doneness.