The Best, Most Simple Corn Casserole!!
flower7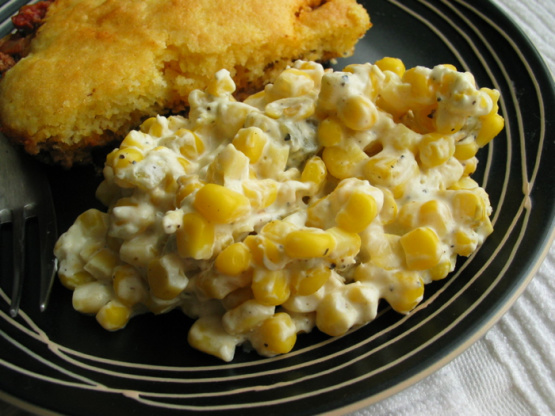 This recipe came from my ex-mom in law. I fell in love with it the first bite I took. That was almost 20 yrs ago and I have been making it ever since.

I have made other corn & cream cheese dishes and I liked the hit the green chiles provided in this one. I used frozen corn (about 11 oz for 1/2 recipe) and lots of pepper (just a dash of kosher salt). Since the corn was still frozen it was hard to mix together so I threw the whole lot in the oven while it heated up. Once the oven was up to temp, I took the dish out, stirred to combine, and put back in for the 30 minutes. Worked perfect. Thanks for sharing your yummy recipe!
Let cream cheese soften to room temperature. You can also stick it in microwave for about 10 second at a time til softened. Drain corn. Do not drain green chiles. In a casserole dish mix all ingredients til combined thoroughly. Bake in a 350 degree oven for about 30 minutes til bubbly and light brown. Enjoy!