loof751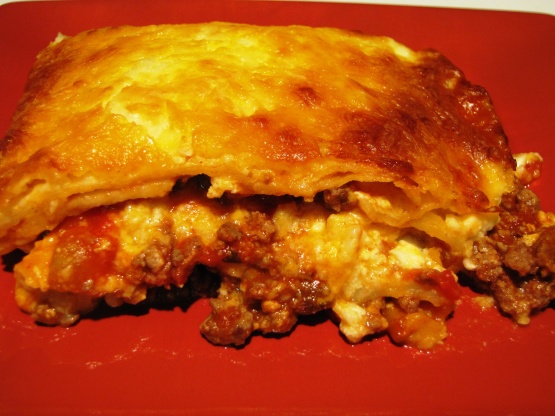 I got this recipe from a lady I used to work with. This is a very easy recipe and tastey!
Really quite good, although I made so many changes to the recipe. I used lasagna noodles instead of tortillas, ricotta cheese instead of cottage cheese, and added spinach to the ricotta mixture and included two layers of black beans in the lasagna. Still, the essence of the recipe remained, and I enjoyed it. The sauce was especially good.
In a large skillet, brown& drain meat.
Add seasoned salt, taco seasoning, tomatoes, tomato sauce, and green chilis.
Mix well, simmer uncovered for 15 to 20 minutes.
Separately, combine cottage cheese and eggs.
In a greased 13x9x2 dish, layer half of the meat and sauce, 1/2 of the tortillas, 1/2 of the cottage cheese mix, and 1/2 of the shredded cheese.
Repeat layers and bake uncovered at 350 degrees for 30 minutes.
Let stand for 10 minutes.