Whipper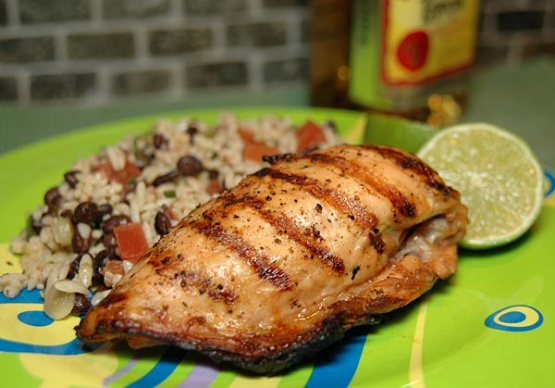 Source: Ina Garten http://www.foodnetwork.com/recipes/ina-garten/tequila-lime-chicken-recipe/index.html

Mean, I don't give many 5s but we just finished our dinner of Tequila Lime Chicken and it was absolutely wonderful. I was so excited when I found this recipe that when I got home last night at 8pm I but everything together and put it in the frig. It stayed there until 4pm the next day. This is much more than a 5 star. Thanks so much.
Combine the tequila, lime juice, orange juice, chili powder, jalapeno pepper, garlic, salt, and pepper in a large bowl.
Add the chicken breasts.
Refrigerate overnight.
Heat a grill with coals and brush the rack with oil to prevent the chicken from sticking.
Remove the chicken breasts from the marinade, sprinkle well with salt and pepper, and grill them skin-side down for about 5 minutes, until nicely browned.
Turn the chicken and cook for another 10 minutes, until just cooked through.
Remove from the grill to a plate.
Cover tightly and allow to rest for 5 minutes.
Serve hot or at room temperature.