Sweet Potato & Parsnip Gratin
ImPat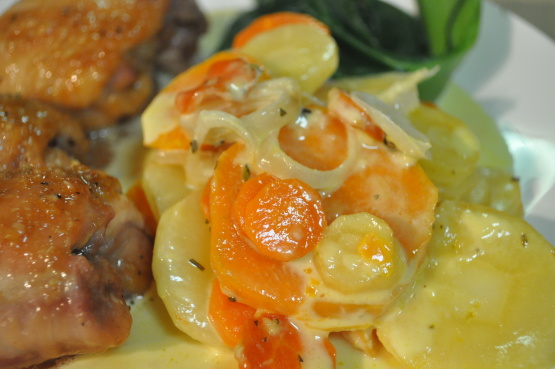 Looking for something a little different....Try this. Found this in the paper. Easy as can be! I added Rosemary to serve this with lamb, but Rosemary can be removed if preferred.

Top Review by ImPat
I scaled this back a little using 450 grams sweet potatoes, 300 grams parsnips and 300 grams of carrots and used a 1 quart (4 cup container) and all up took an 75 minutes to cook through (puting the lid back on for the last 15 minutes). For dietary reasons I coudn't use the soup mix so put some thinly sliced pink eschallot into the layers. Overall the taste is good though personally I wouldn't rave about it but the DM certainly was and has already put tabs on the left overs, so if it gets her to eat her vegies it is number 1 with me. Thank you Tisme. made for Make My Recipe - Christmas Edition.
Preheat oven to 180°C/160°C fan-forced. Layer sweet potato, parsnip and carrot in a greased 6cm-deep, 6 cup-capacity ovenproof dish.
Combine the soup mix, rosemary and cream in a jug. Season with pepper. Pour mix over the vegetables.
Bake, covered, for 30 minutes.
Remove cover and bake for another 25 minutes or until vegetables are tender.
Serve.