Spicy Salsa With Sultanas
WiGal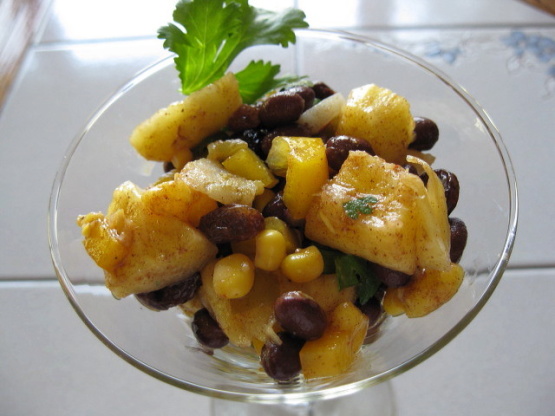 An unusually delightful blending of several fruits & vegetables, this salsa goes well with any number of meats & fish! It's a great dip to use with crackers, tortilla chips & corn scoops, not to mention that it is wonderful as a right-from-the-bowl snack! You can also wrap it in a tortilla for a nice lunch! Preparation time does not include time needed for the salsa to chill, & as with most salsas, age works wonders! This recipe is published on behalf of The Sultans of Spice team during ZWT5 & as part of the Mexico/Tex-Mex/The Southwest Challenge #3 SALSA! In the creation of this salsa, each team member had the opportunity to choose an ingredient that best suited them, & their Zaar name appear after the chosen item!!

Top Review by WiGal
Muy bueno, los Sultanes de la Especia! (Very good, the Sultans of Spice!) When I saw the cinnamon I just knew I had to try this. DS had eaten up all my dried cranberries, so I had to omit them. I did not have spring onions so subbed in 1 tablespoon of red onion. Instead of red and orange bell peppers, I used yellow as that is what I had. The other colors would like better though. Thank you for sharing. Made after my "siesta" during ZWT5 for the Chow Hounds.
Put first 13 ingredients into a large, covered bowl & toss to combine well.
Season with cumin, red pepper, cinnamon, salt & pepper & toss again to combine well.
Cover & refrigerate at least 1 hour before serving. Serve cold or at room temperature.