Spaghetti Con Pollo (Central American Chicken and Spaghetti)
PanNan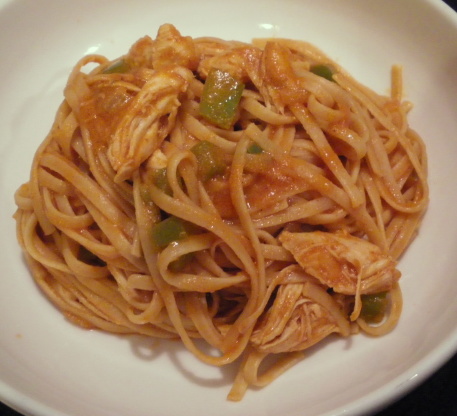 Simple and delicious. My grandmother made this alot when I was growing up and I still can't get enough of them.
I made this several years ago. I had been sick and I kept craving my grandmother's chicken spaghetti. Whenever we have chicken spaghetti it's always the Velveeta recipe, which is good. But I was wanting hers and the only thing I knew was that it was tomato-based. So I started searching for a recipe. This one sounded like pure comfort food to me, so I gave it a try. It wasn't exactly like my grandmother's because I know she didn't use sour cream. But it certainly did hit the spot. (And quite honestly could be better than hers!)
Cook spaghetti according to directions on package.
In a large pot on medium high heat, melt butter. Add onions, bell pepper and saute for about 3 minute or until translucent.
Add cooked chicken and stir for about 1 minute Add the tomato sauce, cumin, salt and water (for 16 oz water, just fill the same can(s) tomato sauce and fill with water). Stir for about 3 minute.
Add sour cream and mix well for about 5 minutes or until sour cream has completly dissolved.
Add spaghetti and let simmer for about 10 minute It can be serve with white rice if you desire.