Bergy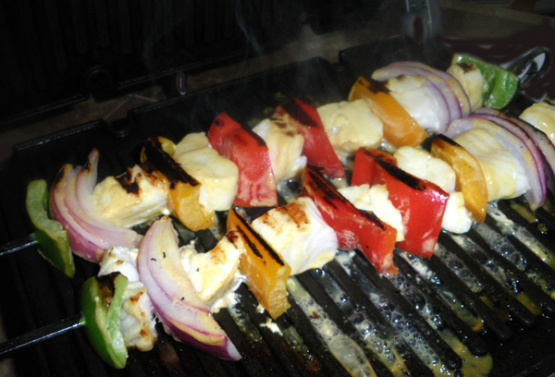 Whether you are on the South Beach diet or not, the marinade for the fish is very tasty. These can be eaten on Phase I of the diet. So far I've tried these kabobs using tuna steak and I'll be trying it out on salmon next. This recipe is courtesy of the South Beach Diet book.

Fantastic!! This is one of my favorite new dinners, and I will be incorporating it into the weekly menu from now on. I used tuna chunks (aka trimmings, fine by me, and WAY cheaper) and broiled them on a baking sheet after I realized at the last minute that lost my skewers in a recent move! The sauce was thick enough that most of it remained on the tuna through the marinating process. I added a little soy sauce and sambal oelek (chili paste), but regretted it because it masked the delicate flavor of the marinade. The veggies were delicious and perfectly textured, and my husband was in love with the peppers. This was so easy to make, really cheap - using tuna chunks (about $6 a pound, but usually available on first-come-first-serve basis), delicious, and very satisfying. I served this with brown rice and sauteed spinach with garlic & lemon juice. Wonderful meal!
Combine the olive oil, lime juice and dijon mustard in a small mixing bowl.
Add fish cubes to the marinade, cover and place in refrigerator; marinate for 15 minutes turning once to coat.
Meanwhile clean, core and cut your veggies.
Thread skewers with veggies and fish, 4 pieces of fish per skewer, and brush kabobs with leftover marinade.
Preheat broiler and place the kabobs on a broiler pan.
Broil about 4 inches from heat for about 6-8 minutes turning once and brush on more marinade when turning.
Feel free to grill them also.