Sauteed Apple, Onion N' Bell Pepper
Derf2440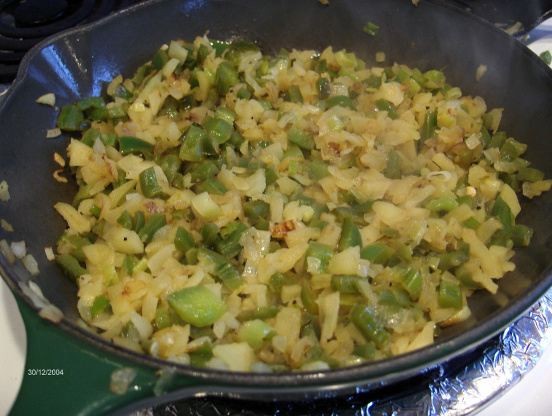 This one is so different on taste...it tempts u !

I had forgotten about lunch and needed something quick to make, and in my hurry I looked over a couple of things in the recipe that might have changed the taste. Firstly, I used a red apple. When I realized my mistake I was worried it might not have the right taste, but even if it isn't authentic it tasted fine. Secondly, I didn't realize until I had already started that the use of the lemon juice is never addressed in the directions. I decided to put it on after cooking and that seemed to be the right thing to do, but I'll give the chef a chance to correct that herself since I'm not familiar with the recipe. Thirdly, an observation: There was a lot of smoke. Not a blinding, or choking amount but I could see it hanging in the air even with the kitchen window open and stove fan blowing. As for serving: I mixed it with cooked rice sticks and I was surprised how little goes a long way with this. This a flavor-packed dish, not too overpowering for one person to eat with rice (or bread) but flavorful enough to feed several people by only increasing the amount of rice. This rather strange dish will probably become a regular for me. Quick, with ingredients that I usually have on hand and tasty. Hmmm... I wonder how this will taste with brown rice...
Put butter to melt in a flat bottomed pan.
Let it go hot a little.
Take care not to burn the same.
Add all the chopped ingredients and increase the heat to the highest.
While you see juices oozing out, add salt and black pepper powder.
Keep sauteeing on high heat for around 4-5 minutes.
Let the edges go brown a little.
Remove from heat and serve warm with breads or steamed rice.
Enjoy!