Roasted Peppers: How to Roast a Pepper on a Gas Range
gailanng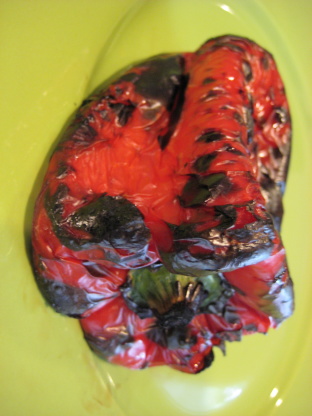 Freshly roasted peppers are wonderfully flavorful, and not nearly as difficult to prepare as you might imagine. :) Give it a try! Requires gas range.

MY teachable moment: 1) Use extra long tongs and hold tight. It can easily fall into your burner. 2) Stand back because it sparks and fizzles. 3) Don't rush the process. Quickly burning the outside doesn't constitute a good roast and blister. 4) Once you get the technique down, these are extraordinarily cheaper than store-bought and quicker to prepare than driving to your grocer. 5) Manically think up recipes for use...pesto, salads, pasta, brushetta, pizza...
bell pepper (bell or hot, whichever)
skewer (or long handled fork)
Rinse the pepper.
Stick the pepper on a metal skewer or long handled fork.
Hold pepper close to the gas range flame (a small kitchen torch such as is used for crème brulee is also acceptable, but using a range is safer).
When the pepper begins to blister, rotate; continue rotating until entire pepper is blistered and charred*.
Place the roasted pepper directly into a Ziploc and seal.
After 15 minutes, rinse the pepper under small stream of cold water.
Rub the pepper thoroughly until all the skin has come off, or carefully scrape skin with a butter knife to remove.
*Note:the amount of charring is open to debate; some people prefer them evenly darkened but not blackened, but others prefer them very charred- you'll need to experiment and decide for yourself.