Raw Tuscan Kale Salad With Pecorino
ChefLee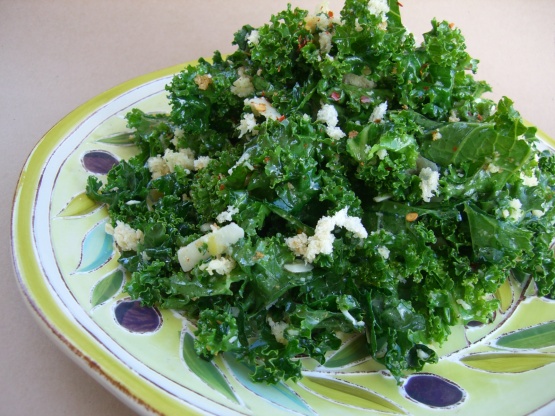 From the NY Times. Eating this was the first time I'd had kale, and it was simply delicious!! The only change I had made from the original recipe is that I added lemon zest and it turned out even better! For the bread crumbs, coarsely crushed homemade croutons would work also. Instead of bread crumbs, you can use a nice thin slice of toasted country bread. Zaar wouldn't let me enter the word crusty/chewy country bread into the ingredient list. If you have a microplane, that works good for grating the garlic instead of finely chopping it.

Top Review by Gaia22
This is so good! I originally was embarking on this raw kale journey by myself, however, on the night I was making it I ended up at a neighbor's impromptu potluck! To my relief, everyone loved it & it really stole the show! Great, Simple, Healthy, Raw - I will be making this often. I used a full clove of garlic, dried and chopped up a slice of whole wheat bread drying it out lightly via a toaster oven and it was all wonderful. I even ended up only using store-bought grated cheese - I can imagine how yummy this would be with a nice quality, sharp pecorino or parmesan freshly microplaned at home. Yum. Also, we all loved the lemon zest in the dressing and really couldn't imagine this recipe without it! Thank you so much for sharing!!
Trim bottom 2 inches off kale stems and discard. Slice kale, including ribs, into 3/4-inch-wide ribbons. You should have 4 to 5 cups. Place kale in a large bowl.
If using bread, toast it until golden on both sides. Tear it into small pieces and grind in a food processor until mixture forms coarse crumbs.
Chop or microplane the garlic and transfer to a small bowl. Add 1/4 cup cheese, 3 tablespoons oil, lemon juice & zest, salt, pepper flakes and black pepper, and whisk to combine. Pour dressing over kale and toss very well to thoroughly combine (dressing will be thick and need lots of tossing to coat leaves).
Let salad sit for 5 minutes, then serve topped with bread crumbs, additional cheese and a drizzle of oil.