Ravjul Malti (Maltese Homemade Ravioli)
Satyne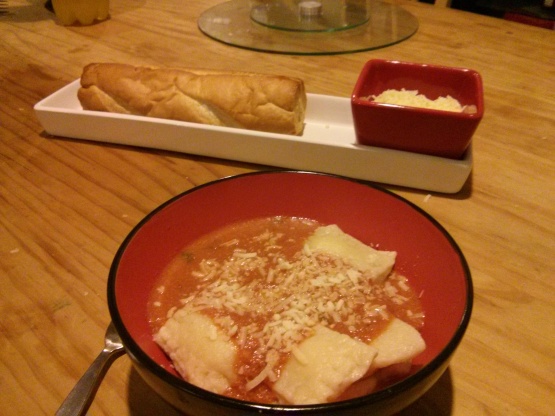 A traditional maltese food. Serve with a plain tomato sauce poured on top, a drizzle of olive oil and parmesan cheese.

Top Review by Satyne
I'm really happy with this recipe. It was my first time making pasta from scratch. May I please ask if possible, can you put an approximate thickness in the directions? I rolled it out to what I thought was 'not too thick' and the result was very thick pasta. I cooked for longer than 4 minutes and they were still a little bit undercooked. It would be great if you could offer a little extra guidance on the subject. Flavour wise, beautiful. I used Greek basil in place of parsley as a personal preference. I am looking forward to trying these again. I still have some dough and filling in the fridge to roll out the rest.
Mix flour and semolina, make a well in the centre, add beaten eggs, olive oil and salt and using your fingers, start incorporating the flour into the flour. Knead until you have a soft pliable dough, cover in plastic wrap and refrigerate.
Filling:.
Mix all the ingredients together.
Cut the dough in 4 pieces and roll out each piece into a wide ribbon shape. do not roll out the dough too thin because this isn't a very strong dough. You can use a pasta machine or a rolling pin.
Put 1 tbsp of filling on 2 of the dough leaving them a bit spaced out. lay another sheet of pasta on top and using your thumbs press aroung the filling to make sure that the ravioli are sealed shut. Cut using a biscuit cutter cut out the ravioli and lay on more semolina. The remaining cut out pasta can be re kneaded and filled too.
Do not leave lying around for a long time ofr they will stick to each other.
To cook boil in salted water for 4 minutes ( but not a rolling boil).
To Freeze: freeze immediatley on a baking sheet dusted with semolina, once frozen pack in bags.
Serve topped with a plain tomato sauce and 1 tbsp of parmesan cheese sprinkled on top. Drizzle a bit of olive oil, season with salt and pepper.