Raspberry-Cheesecake Bars
Bekhalyn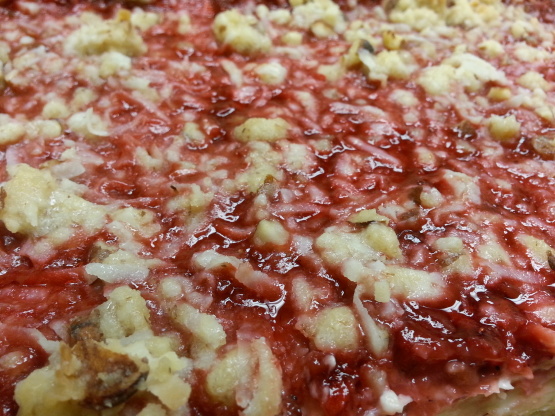 Very light and refreshing dessert bars. Could exchange raspberry preserves for any type--blackberry, strawberry, etc.--and they'd be just as good.
Preheat oven to 350°F.
In a mixing bowl, combine the flour, brown sugar and 1/2 cup finely chopped almonds.
Cut in shortening until mixture resembles fine crumbs.
Set aside 1/2 cup crumb mixture for topping.
For crust, press the remaining crumb mixture into the bottom of a 13x9x2-inch baking pan.
Bake for 12 to 15 minutes or till the edges are golden.
In another mixing bowl, beat the cream cheese, sugar, eggs and almond extract till smooth.
Spread over the hot crust.
Return to oven and bake for 15 minutes.
Spread preserves over cream cheese mixture.
In a small bowl, combine the reserved crumb mixture, coconut and sliced almonds-sprinkle over preserves.
Return to oven and bake for 15 minutes more.
Cool in pan on a wire rack.
Chill for 3 hours before cutting into bars.
Store in the fridge.