Annacia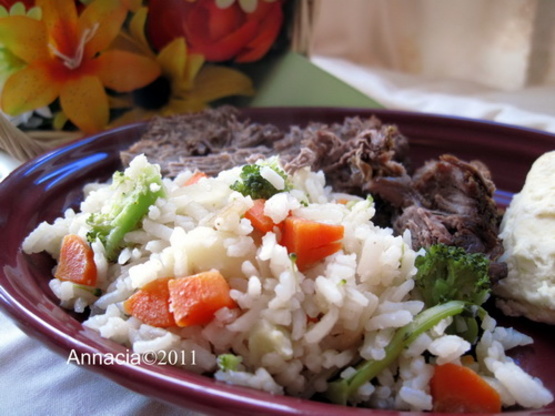 A mild Indian dish made with vegetables and basmati rice, all cooked in one pot.

We enjoyed this rice last night with a beef roast and biscuits. I used fresh potato, carrot and broccoli (don't think I'd add the potato again, it just didn't do anything for the dish) which I precooked just a bit to get them started. The cinnamon and cumin are very mild so everyone from the 2 yr old on up should like this recipe. I'm sure that I'll make this again because I always have veggie bits around and this is a great way to use them.
Sauté chopped onions in oil.
When golden brown, add cinnamon, bay leaf, cumin, rice and vegetables.
Sauté two minutes and add 3 cups of water.
Bring to a boil, add salt, and coconut milk (if using) and simmer, covered, over low heat.
Cook for 20 minutes (35-40 minutes for brown rice).
Garnish with coriander leaves or sliced green onions, and serve alone with chutney or with dhal.
Source: Vegetarian Tastes of Toronto, p. 30.