awalde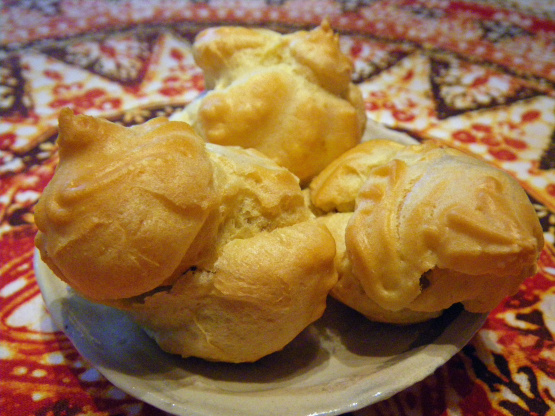 This is a delicious recipe for choux pastry, you can change the shape and make it into eclairs instead. Serve with chocolate sauce.

Top Review by awalde
Thanks a lot for your perfect recipe. I had a similar one, but as I'm using now usually food.com recipes, I've found that I should look for another one here. I saw your's (without review and picture) and I found you could need a review and a picture.
It worked very well, without any problems. I didn't need a sweet fill, so I prepared a salty filling.
Your recipe is really perfect for sweet and salted filling! Next time I'll use your recipe as well!
150

ml water

4

ounces flour

3

medium eggs (lightly beaten)

150

ml whipping cream (whipped)
Warm the water and butter, until the butter melts. Then bring to a boil.
Remove from heat and stir in flour.
Return to heat and stir until the dough forms a ball.
Place in a larger bowl to allow to cool.
Beat the eggs in thoroughly.
Heat oven to 400°F Grease baking tray and run under cold tap to leave a thin film of water. Place quarter sized drops of the dough onto baking tray.
Bake for 20-25mins until risen, firm and golden. Place slits to allow profiteroles to vent.
Fill with whipped cream and serve with your favorite chocolate sauce.