Lois M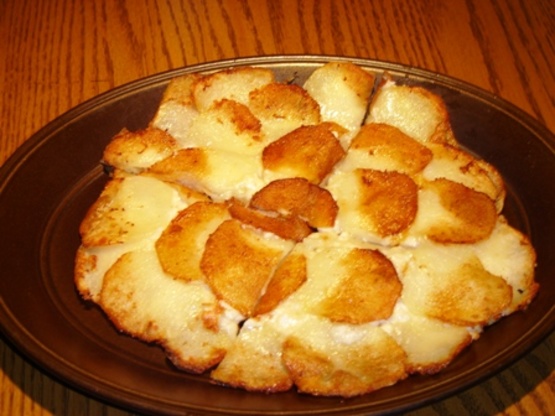 I love thinly sliced crispy potatoes, and adding cheese to them just makes them all the better. I have searched for a recipe for this dish for a while, and I ended up combining parts of several recipes. I have tried lots of variations, this recipe is my favorite. But you can try differant cheeses, adding herbs, chives, green onions, etc...

What a delightful dish. The combination of the cheeses is a nice surprise. Great presentation.
Pre-heat oven to 450.
Place the potatoes in a medium bowl, pour clarified butter or olive oil & parmesan cheese over, and toss to coat.
Arrange half the potatoes, flower fashion, in a 9-inch ovenproof skillet.
Cook over med heat until the edges begin to brown and potatoes stick together.
(This will keep the cheeses from running through) about 5 minute.
Sprinkle with cheeses and cover with remaining potatoes, arranged the same way as the bottom layer.
Set in the oven for 10 minute.
Carefully flip potatoes with a wide spatula (or turn over onto a plate, and return to pan) Brown on med heat 5 minute.
Return to the oven for an additional 5 minute.
Cut into 4 servings, keep warm.