MA HIKER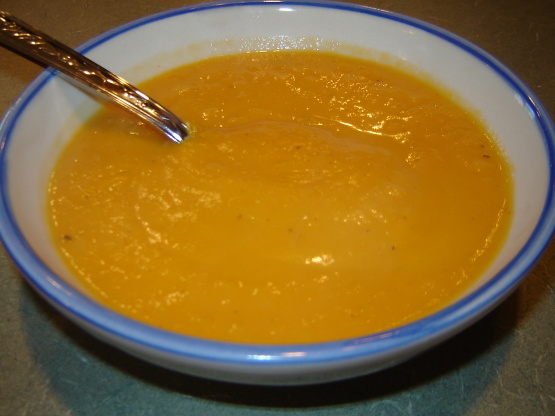 This is a nice soup (if you like sweet potatoes, that is)...very simple and tasty. From Moosewood.

absolutely loved this soup and so did my husband. I used 1 and a 1/2 cups of soy milk instead of the milk and cream and soya marg instead of the butter to make it vegan and it was delicious. Nice and simple to make and with a really great texture. Also very filling as quite a thick soup. Thanks for sharing the recipe.
Melt the butter in a saucepan and saute the onions until translucent, stirring every once in a while.
Add the celery and ginger. Cook until the onions brown.
Add the sweet potatoes, water, bay leaf, salt and pepper. Bring to a rapid boil.
Reduce the heat, cover, and simmer 15-20 minutes, until the sweet potatoes are tender.
Retrieve the bay leaf and toss it.
Puree the soup mixture with the milk and cream in a food processor (I needed to do this in two batches).
Reheat gently, adding more salt and pepper is desired.
Don't boil the soup, or it will curdle!
Done!