Pork Tenderloin With Stilton and Port
ihvhope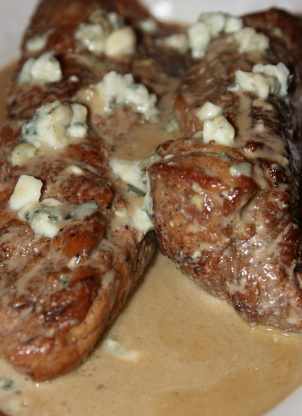 The cheese and the port complement the pork well

Very good flavors. I'd make this again with just a few adjustments. Next time I might half the sauce since that's a lot of port to use up and I cooked two pork tenderloins that equaled three pounds. I'd also reduce the sauce a bit more than I did. All in all, really nice flavor.
Heat the butter in a large skillet over high heat and brown the.
tenderloins on all sides. Transfer to a covered roasting pan.
Deglaze the skillet with the port and reduce by half. Add the chicken.
stock and bring to a boil. Pour the mixture over the tenderloins and.
roast covered in a preheated 450F (230C) oven until done, about 15.
minutes. Remove the pork and keep warm. Add the cream to the liquid.
in the roasting pan and reduce by half over a moderate flame. Add the.
Stilton, reserving some for garnish, and stir to blend. Spoon the.
sauce over the pork and garnish with the reserved Stilton.