Parsley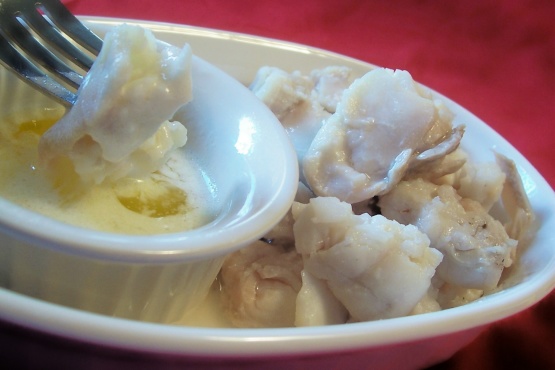 This recipe was told to me by the captain of the boat when halibut fishing. It is a very quick, simple, and tasty way to eat halibut!

What the recipe is missing is the essential ingredient- an acid, like lemon juice or vinegar, that coagulates the proteins and changes the texture of the fish, making it more lobster like. Sugar is optional, and a cup is far too much.
Fill a pot with water (about a gallon).
Add 1 cup sugar, and bring to a boil.
Do not ever stir the mixture.
Add chunks of halibut, do not over crowd.
They will sink to the bottom, and then rise to the top when they are done.
It should take just a few minutes.
Remove with slotted spoon.
Remember to not stir the mixture.
Continue until all the halibut is cooked.
Dip in melted butter and eat!