Pomegranate, Honey & Quinoa Breakfast
PaulaG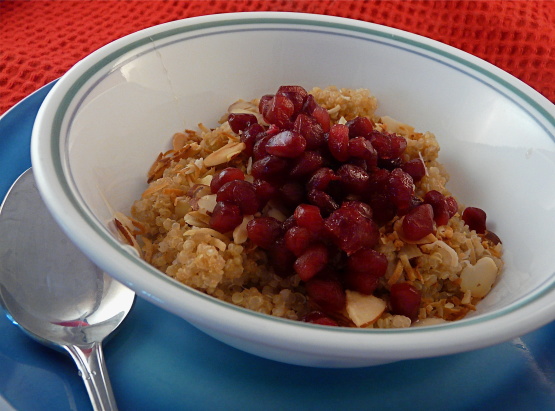 Delicious, fresh tasting and pretty healthy!! Modified from a recipe found on http://edenkitchen.com

I would give this more stars if I could. It is SOOOO delicious! I should have watched the quinoa more carefully as it was cooking, as it started to boil over, then all the quinoa was left on the side of the pot, not cooking in the liquid as it should have been. I did use toasted quinoa, using the method on this site. I'm not sure if that made a difference but the end result is absolutely heavenly! It is the perfect blend of flavors with a lovely pop when the pomegranite seeds burst! I will double the recipe next time. I made this for my daughter and she saved me a bit, but that was not enough! Thanks for sharing this fabulous recipe!
1⁄3 cup quinoa
1⁄3 cup milk, substitute
1⁄3 cup water
1⁄4 teaspoon cinnamon, powder

1

pinch ginger powder

1

tablespoon flax seed, ground (I use ground sunflower seeds!!)

1

tablespoon unpasteurized honey (raw)
1⁄4 cup fine desiccated coconut (I left this out but it would probably be good)
handful whole almond, chopped and toasted in a dry frying pan
1⁄2 pomegranate, seeds of
Rinse the quinoa in a fine mesh sieve.
Place in a medium saucepan with milk, water, cinnamon and pinch of ginger powder. Bring to the boil, then reduce heat and simmer for 15 minute (At this point the quinoa should have a slight crunch when you bite it.) Remove from heat and drain any remaining liquid, if any.
Stir in the flaxseed or sunflower seeds, unpasteurized honey and desiccated coconut if using. Mix well.
Top with pomegranate seeds and toasted almonds.