Pollo Parmigiana ( Aka Chicken Parmesan)
Shawn C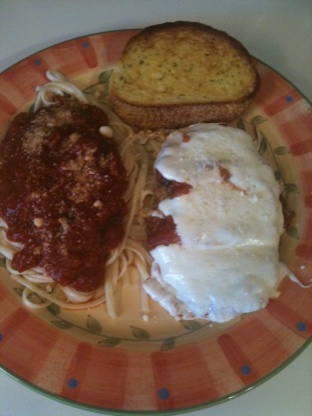 Another restaurant favorite of mine and my family. I usually double the sauce recipe and freeze for later use. The fried chicken pieces also freeze well for a quick dinner later!

We LOVED this recipe! The simplicity of it makes it wonderful for a weeknight dinner, but the simmering sauce is so good that it also makes a wonderful weekend meal. It smells so good. Use good quality chicken, or the meat may be too tough.
MARINARA SAUCE: cook garlic slowly in 1 tablespoon olive oil.
About 1 minute.
Add tomatoes, salt and basil.
Let simmer for about a hour.
CHICKEN: Salt chicken very little.
Mix about 2-3 tablespoons parmesan cheese in the egg.
Dip each breast into egg then dust with bread crumbs.
Fry in skillet in enough oil to coat the skillet.
Be careful not to burn.
Brown on a low to medium heat on both sides until chicken is done.
Cook spaghetti according to directions.
PREHEAT OVEN 375°.
In casserole dish place chicken flat.
Ladle 1 or 2 spoonfuls of sauce on top of each breast put desired amount of grated mozzarella on top.
Bake until cheese is melted.
Serve over noodles with more sauce.
Garnish with parmesan cheese.
**For added ZIP: Squeeze fresh lemon juice over chicken before you put on the sauce and into the oven!