gailanng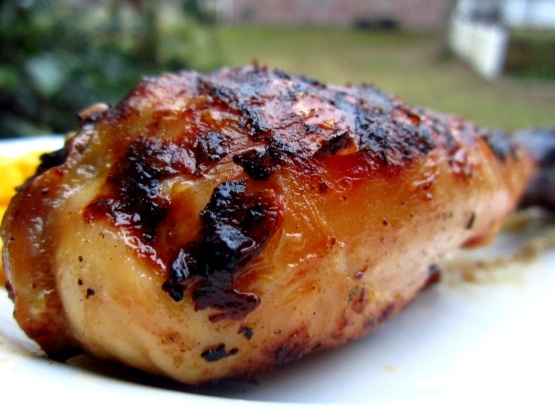 This is my family's recipe for grilled chicken, mexican-style. It is very similar to what you would get at El Pollo Loco fast food restaurants - although we were eating this way before they ever existed! Achiote powder should be available in most grocery stores' mexican spice section, but is easily found at mexican grocers or online. It imparts a subtle flavor that is definitely hispanic, and it also gives the chicken it's wonderful golden color. Prep time does not include marinating time. To cut calories, use skinless chicken, but it doesn't taste as good!

I finally got to try this, and boy was I glad I did! I had to sub boneless skinless breasts because I couldn't find any boneless ones with skin on, and I used achiote paste in place of the powder (I don't keep achiote powder on hand). The marinade smelled so good when the hot oil was added to the paste mixture! I let the chicken hang out in the fridge in the marinade for 2 days, until I had time to actually grill it on my indoor grill (SOMEDAY I'll talk DH into getting us a real grill, lol). The finished chicken came out so juicy and flavorful, but the flavoring was mild enough that any leftover cooked chicken could be used in so many different ways (soups, salads, sandwiches, tacos, etc.). We enjoyed it as-is the first day, with Mexican rice, refried beans and fresh pico de gallo. Now I'm tossing up whether I want to use the leftover chicken to make tacos or chicken salad. Decisions, decisions. Sorry, no photo, both camera batteries were dead again :( . Thanks for posting! Made post-PAC Spring 2012
Cut chicken breasts into two halves.
Heat oil in small saucepan over medium high heat until very hot.
While oil heats, mash cumin, salt, oregano, garlic and achiote powder into a paste with a mortar and pestle. Place the paste in a heat-proof bowl.
Whisk hot oil into the garlic paste. Allow to cool slightly then add lime and orange juice, stirring well to combine.
Pour marinade into a large ziploc bag, add chicken breast halves. Shake or knead to spread marinade throughout chicken.
Refrigerate at least four hours to overnight.
Grill over medium heat, turning, until chicken reaches internal temperature of 180 degrees.
Place chicken on cutting board and let rest several minutes.
Serve individually, or cut into bite sized pieces for making tacos or burritos.