Phyllo Cheese Straws With Pesto
Saturn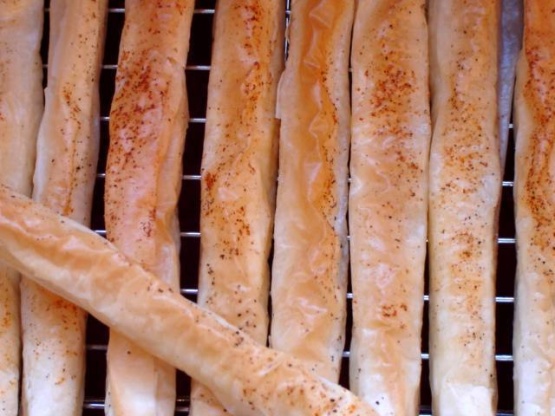 I love these as a snack or with a meal! They make great appetizers, too!

Fantastic! I forgot the pesto at first, and they were yummy. Then I remembered and pulled it out, and we all dipped and agreed that the pesto definitely adds something. These are a pain to make (as is most things made with phyllo), but I used nonstick spray instead of melted butter and that made it go a lot quicker and easier. Overall, the numminess overpowers the work involved and I will probably make these again. :) Thanks for posting, made for ZWT4.
Preheat oven to 375º.
In a small bowl, combine the cream cheese, lightly beaten egg, parmesan, and salt. Stir to combine.
Spoon mixture into a plastic zip-top bag. Set aside. To use as a pastry bag, cut corner off bag to make a 1/4-inch diameter opening.
Lay out thawed phyllo dough.
Working quickly to keep dough from drying out: brush top sheet with melted butter, pipe cheese filling along long edge of phyllo 1/2-inch from each end. Fold over ends to seal in filling and roll up straw. Repeat with remaining sheets of phyllo and place on a baking sheet.
Bake until golden, about 10 minutes.
Makes 20 straws.
Serve warm with pesto for dipping.