Peas 'n' Cheese Squash Spaghetti
Debbwl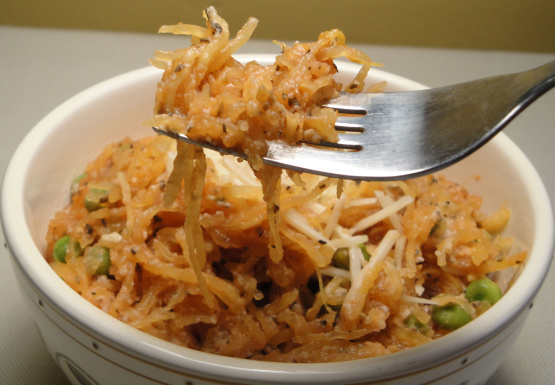 A simple recipe with 5 ingredients from Rachael Ray.

Top Review by Debbwl
Very easy! Made for DH's lunch as spaghetti squash is one of his favorites. He said he really liked the addition of both the ricotta and peas, neither of which I have ever used when making spaghetti squash. Made as written using marinara with mushrooms added and low fat ricotta. Thanks for the post.
Halve the squash and place cut side up on a damp paper towel in a microwavable dish. Microwave on high until tender, about 15 minutes.
Meanwhile, in a large saucepan, stir together the marinara and peas and warm over medium heat for about 5 minutes. Using a fork, scrape the strands of squash into the marinara and peas.
Bring to a simmer and cook until the sauce is no longer watery, 5 to 7 minutes; remove from the heat. Stir in the ricotta and season with salt and pepper. Divide among 4 bowls and top each portion with some of the parmesan.