Pears Poached in Peppered Port
awalde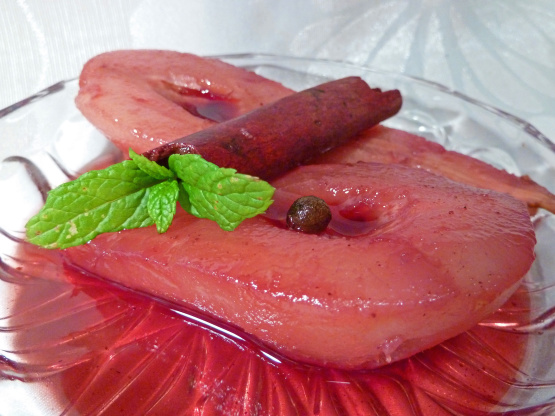 A light dessert with a spicy flavor. Cook time does not include chill time. From Cooking Light.
Combine first 7 ingredients in a large saucepan; bring to a boil.
Add pear halves; cover, reduce heat, and simmer 8 minutes or until tender.
Remove pear halves with a slotted spoon, and place in a large shallow bowl. Cover and chill.
Bring wine mixture to a boil, and cook 8 minutes or until reduced to 1 cup.
Pour wine mixture through fine mesh sieve into a small bowl; discard spices and lemon. Cover and chill.
Place 2 pear halves in each of 4 dessert dishes; top with sauce. Garnish with mint sprigs.