Rita1652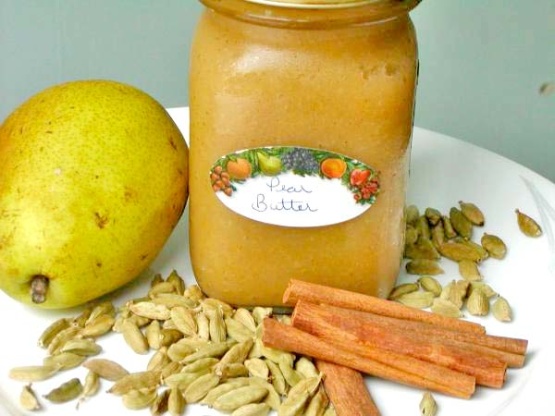 This recipe I found in Ball recipe book Tweaked a lot.I used my vita mix so I didn't need to cook, peel or seed my pears.I just pureed them then cooked with rest of ingredients. If you need to you can peel, seed and cook to soften the pears then puree in food processor. I just like the idea of all the vitamins and fiber I get to have because of this method. The prep time is what it took me from start(fruit) to finish(butter). This can be used on bread, waffles,pour it on a layer of cream cheese for a cracker spread,serve with a pork roast or turkey. Try it straight out of the jar.

This is very different from the recipe in the Ball book. It has way too much liquid (OJ) and that is why it takes so long to reduce down to pear butter. For 10lb of pears, you should only use about a half cup of OJ. The flavor is great, but it takes 3 hours on the stove for the finished product. It makes 3.5 pints, but I think this depends on how thick you make it. If you make it thin, it will make more because it hasn't reduced down so much. I will use a little less juice next time (about half a cup) and see how it turns out.
Wash 8-10 pint jars in hot soapy water or in dish washer.
Keep hot until needed.
Prepare lids as manufacturer directs.
Place in a 6-quart pot.
Pour orange juice over fruit.
Stir in orange peel, sugar, spices and seed of vanilla bean.
Use a hand blender if need be to get a nice smooth puree.
Stirring constantly over medium heat, bring to a boil.
Ladle into hot jars 1 at a time, leaving 1/4 inch headspace.
Release trapped air.
Wipe rim of jars with a clean damp cloth.
Attach lid.
Place in canner.
Process in a boiling-water bath.
For 15 minutes.