Swirling F.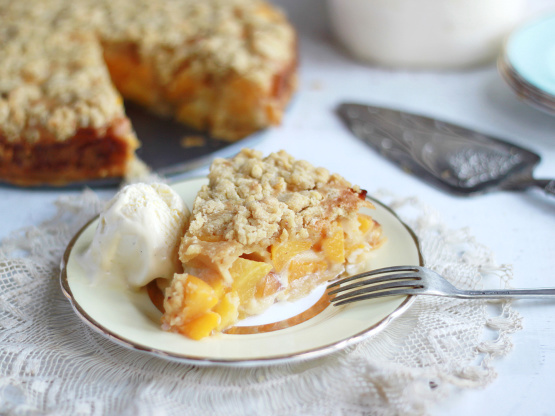 This pie is delicious! This is a great dessert to serve at a BBQ Cookout! I get compliments on it all the time!

This is scrumptious!! I didn't have fresh peaches, so I used my home canned ones. It came out really good. The sour cream gives a nice flavor. We liked the crunchy top too! Mine only had to bake for 50 minutes.
Preheat oven to 350F degrees.
Place 3 cups fresh peaches into pie pastry.
In a medium bowl, mix 1 cup sugar, 1/3 cup flour, and salt.
Add eggs and sour cream.
Blend well.
Spoon mixture over peaches.
In a separate bowl, combine 1/2 cup sugar, 1/2 cup flour, and 1/4 cup butter until mixture resembles coarse meal.
A pastry blender works well, but two forks or two knives will also work.
Sprinkle meal mixture evenly over pie.
Bake 60 minutes or until golden.
Garnish with fresh peach slices, if desired.
Refrigerate leftovers.