Pan-Seared Filet Mignon With Caper Sauce
Nimz1466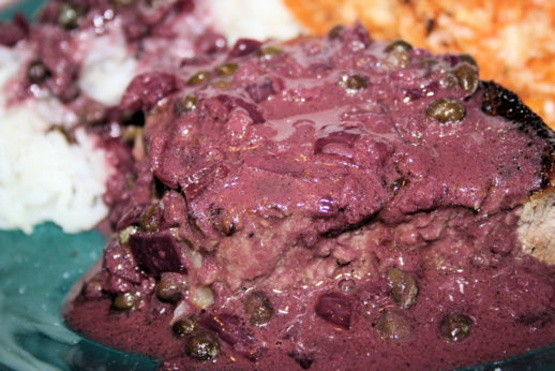 I got this as a free recipe card at a local food store(Hart's) it looks delish.

This recipe was perfect for a busy weeknight when I needed a filet recipe that would be very quick to prepare. This was it. The prep is minimal and the steak cooked up quickly with the right amount of doneness. The flavor of the sauce was very nice. Thanks!
Sprinkle salt and pepper over steaks.Melt 2 tablespoons of the butter in large heavy skillet over medium-high heat. Add steaks to skillet and cook 4 minutes on each side or until desired doneness. Remove from skillet: keep warm.
Melt remaining 2 tablespoons butter in skillet over medium-high heat and add shallots and garlic. Sauté 2 minutes or until lightly browned. Add wine, mustard and capers; simmer until slightly thickened,about 5 minutes. Spoon sauce over steaks. Garnish with chopped tomato,if desired.
NOTE: If preferred, substitute beef broth for the red wine called for in this recipe.