Oven Roasted Sweet Potato Wedges
I'mPat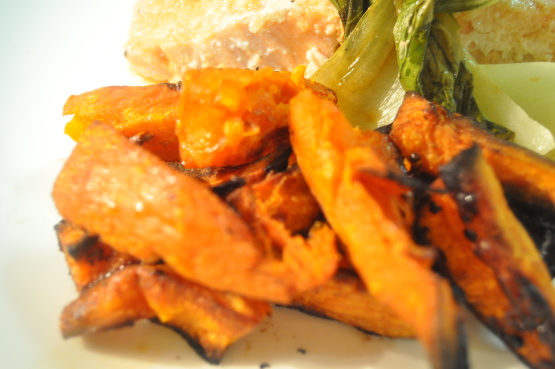 This is a delicious side dish for ham, pork or even chicken. The sweet potatoes, coated with brown sugar and spices are a little sweet and a little spicy. Quick and easy.

These Sweet Potato Wedges turned out to be so delicious and was a huge hit for dinner. The hardest part was cutting up the potatoes but even that wasnt hard to do. This recipe is super easy to make and yeilds super moist sweet/salty/slightly spicy Sweet Potato Wedges! My guest gobbled them up as soon as I brought the wedges out in the serving dish. Lol! I followed the recipe to the letter w/the exception of my choice of oil. I used extra virgin coconut oil and found that I really needed 2 TBLS instead of 1 TBLS to fully coat the wedges. I used a non-stick cookie sheet and never turned the wedges during baking and the wedges just slid right off cookie sheet easily once they were done. So the next time I make this dish, I will use ¼ tsp. of salt as I don't use salt very much and it was a little salty for my tastes but otherwise...DELICIOUS! I served the wedges as a side dish with Spicy Bistro Steak Subs (http://www.food.com/recipe/spicy-bistro-steak-subs-16948?photo=125360).
Preheat oven to 400°.
Peel potatoes and cut into 1" wedges.
In a large bowl, toss potatoes with oil.
Mix sugar and seasonings together and add to potatoes.
Toss until evenly coated.
Spread on a non stick baking sheet and roast for 30 minutes, turning every 10 minutes until browned and done.