Orange Five-Spice Roasted Chicken
ImPat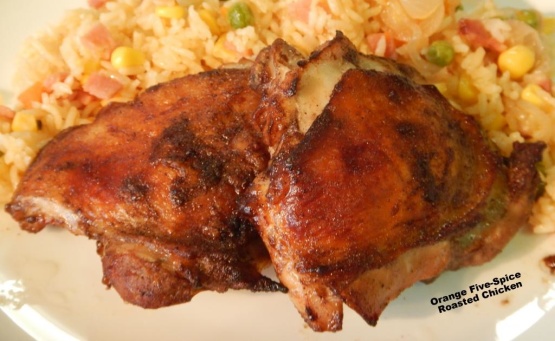 Another low-carb recipe from one of my cookbooks. A nice combination of Asian and orange flavors. Have not tried this yet, but plan to soon.

Top Review by ImPat
We loved even considering our OOPS moment no marmalade was so sure I had some in a jar and just enough for this recipe but alas no so went o'kay got an orange in the fridge I'll zest it and it will give the orange flavour but no it has been eaten so last resort orange juice not as intense or sweet as the marmalade would be but it still tasted great, thank you Nancy's Pantry made for http://4foodfriendsandfun.yuku.com/topic/286/For-Your-ConsiderationTag-Game?page=156#.VLzyKLccSGc and was very much enjoyed with Mummamills http://australian.food.com/recipe/microwave-fried-rice-94211 and made for a very enjoyable meal, thank you Nancy's Pantry.
Place the chicken in a large zip-lock bag. Mix all other ingredients together and pour over chicken. Seal the bag, pressing out the air as you go. Turn the bag to coat, and place it in the refrigerator. Let sit for at least 2 hours, longer is fine.
Preheat oven to 375 degrees F. Place the chicken in a baking pan; reserving marinade in a small bowl. Roast chicken for 1 hour, basting 2-3 times with the reserved marinade.