"Old Reliable" French Bread (for Kitchen Aid Mixers)
ziasfusion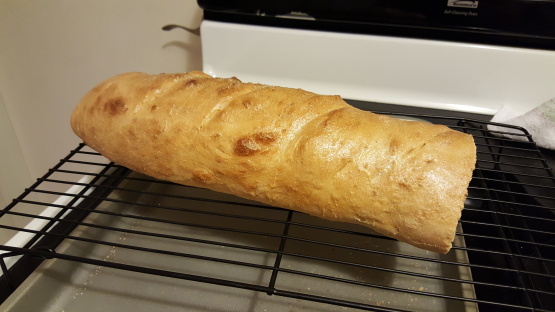 This recipe came with my Kitchen Aid mixer, and makes two absolutely beautiful loaves of French Bread. I misplaced my recipe book and recently found it again, so am adding this recipe to Zaar for safe-keeping! Make sure you use a very, very sharp knife to make the diagonal slashes. This bread is delicious on its own, for sopping up stew or soup broth, and with your favorite cheeses or toppings. Prep time specified includes rising time.

I rate this recipe 5 stars because it made me look like a rock star!!! I'm a dude and dudes typically don't cook right?? Well, let me tell you, dude or not, if you follow the directions, this bread will turn out fabulous!!! Some notes for others that haven't made bread.....don't make the slices on top too deep, just cut the surface. Could cut lengthwise too. Pinch the ends tight also. What you see prior to the oven will be what you get after. You can expect to get flour everywhere too. A Pam Cooking Spray Can will work for a rolling pin. Find pesto spread, olive oil and some parmesan cheese and hide the remaining loaves from your family cuz they'll be gone in the morning.

No need to pinch yourself.......you are awake!!
Dissolve yeast in warm water in warmed mixer bowl.
Add salt, butter, and flour.
Attach bowl& dough hook to mixer, turn to Speed 2 and mix about 1 minute or until well blended.
Knead on Speed 2 about 2 minutes longer.
Dough will be sticky.
Put dough in large greased bowl, turning to coat.
Cover and let rise in warm place, free from draft, about 1 hour, or until doubled in bulk.
Punch dough down and divide in half.
Roll each half into 12" x 15" rectangle.
Roll dough tightly, from longest side, tapering ends, if needed/wanted.
Put loaves on greased baking sheets that have been dusted with cornmeal.
Cover and let rise in warm place, free from draft, about 1 hour, or until doubled in bulk.
With sharp knife, make 4 diagonal cuts on top of each loaf.
Bake at 450F for 25 minutes, then remove from oven.
Beat egg white and water together and brush each loaf with this mix.
Return to the oven and bake 5 minutes longer.
Immediately remove from baking sheets and cool on wire racks.
Serve with your favorite spread such as herbed butter, garlic bread topping, etc.