Mushroom-Gouda French Bread Pizzas
VickyJ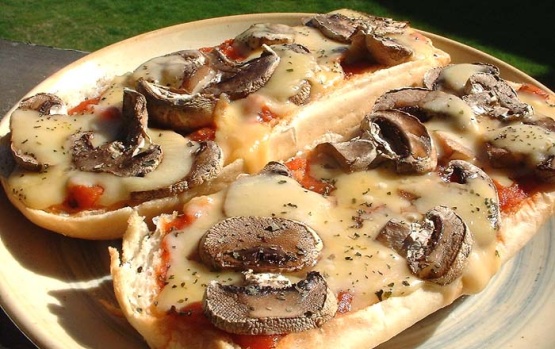 This can be a snack, appetizer or lunch. I used simple white mushrooms, regular Gouda cheese and jarred marinara sauce, but you can get creative with this. The combination of the Gouda with the mushrooms created such a delicious difference over the usual mozzarella cheese.
Preheat oven to 350.
Open french rolls and lay out on sheet pan with insides facing up.
Smooth marinara/pizza sauce on each roll surface evenly.
Alternate a few mushrooms, with some shaved cheese, mushrooms, shaved cheese and then a little sprinkle of basil.
Bake for 20-25 min or just until cheese is melted and browned in a few spots -- ovens vary.
Slice into smaller pieces for an appetizer or snack. Serve with a tossed salad or fruit for a great lunch!