Caz G.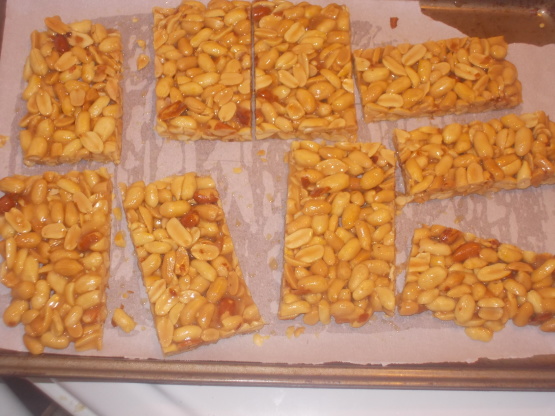 This is a copycat Verison of that wonderful candy bar. Bar size: 1.5 oz

This recipe is perfect! I haven't been able to find my favorite Munch bars anywhere any more so I was so glad that someone figured out how to make them and posted the recipe online. My family is crazy about these and they really do taste exactly like the Munch Bar. I've made them so often since last year when I found this that I'm becoming famous among my friends for them! They were a huge hit as a gift for friends and family last Christmas..and they're so easy to make. Thanks, KC!
Be sure the dry roasted peanuts you use are the salted kind, and watch that thermometer closely once the candy gets simmering.
Spread peanuts out on a baking sheet and heat them up in your oven set on 300 degrees.
This will warm up the peanuts so that they don't cool the candy too quickly when added later.
There's no need to preheat the oven.
Melt the butter in a medium saucepan over medium/low heat.
Add sugar and corn syrup and simmer, stirring occasionally.
Put a candy thermometer in the mixture and watch it closely.
When the mixture reaches 300 degrees add peanuts and stir well until all of the peanuts are coated with candy.
Pour the candy onto the warm baking sheet and spread it flat.
When the candy cools, break it into chunks and store it in a covered container.