Annacia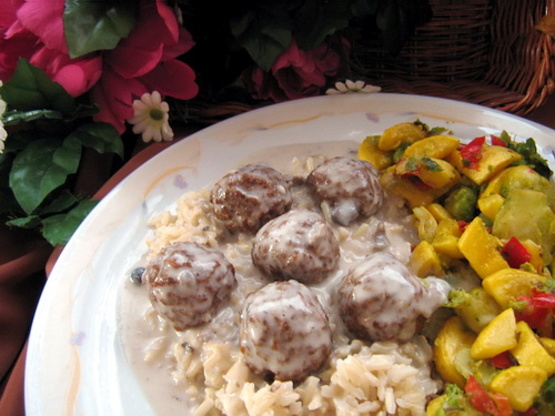 I've made these "meatballs" quite a few times now for potlucks as well as family dinners. They're quite good. The recipe comes from Jean Pare's Company's Coming Meatless Cooking.

Okay, first of all, let me say that we did enjoy these. However, I do not see how anyone could ever mistake these for meat! I agree with all other reviewers who have said that these taste like stuffing balls. Even the texture and appearance was that of stuffing. Not that that is a bad thing. These really are quite good, and my kids and I enjoyed them for lunch. But even my very young children could not be fooled into thinking that this was made with meat. Doesn't matter, because they still enjoyed them--because they tasted like stuffing, which they love. :)
Add first 6 ingredients to bowl and mix well.
Add the cottage cheese, onion and eggs,.
Let stand 10 minutes (crumbs and oatmeal will absorb moisture)
shape into 1 1/2 inch balls.
Arrange on ungreased 9 x 9 inch casserole
In a bowl, mix together the soup and water.
Pour over balls.
Cover and bake at 350F for 45 minutes
Remove cover and bake another 30 minutes until balls are slightly browned.