Marbled Chocolate Orange Cake
Baker30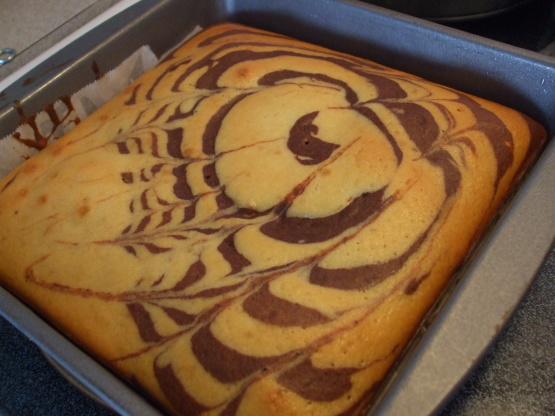 I was in the mood for creating my own recipe for a chocolate orange cake,and this is what came out of it... I baked it in a 9x9 in square pan,but I think it could work as muffins too...perfect with coffee or as a snack.Hope you like it!

Very, very nice! We enjoy the combo of chocolate & orange very much around here, & this cake fits very nicely in that category! I did use all the zest I could get from a large orange, & added an additional tablespoon of the cocoa powder as well! Thanks so much for posting this great recipe! I'm now wondering how this would taste if, another time, I'd include some chopped up chocolate/orange sticks! [Tagged, made & reviewed in Zaar Cookbook tag]
NOTE: My original recipe used less baking powder and I found that it didn't rise very much,so I increased the amount of baking powder.
In a medium bowl ,whisk the eggs with the sugar,sour cream,oil,and orange juice.Add orange zest at this point if using any.
In a separate bowl ,sift the flour and baking powder and gently mix together to evenly incorporate the baking powder into the flour.
Slowly add the egg mixture into the dry ingredients and mix until everything is combined.
Next, pour half of the batter into a separate bowl and add cocoa powder to it.If the cocoa mixture has a thicker consistency,then you can add a little bit of orange juice to thin it out.
Lightly grease a 9 inch round or square cake pan and pour the batter interchangeably to get a marble or swirl effect.This is where you can get creative.
Bake at 350 degrees F for 40 minutes or until tester comes out clean.