Low Carb " I'm Dying for a Burger" Salad
rpgaymer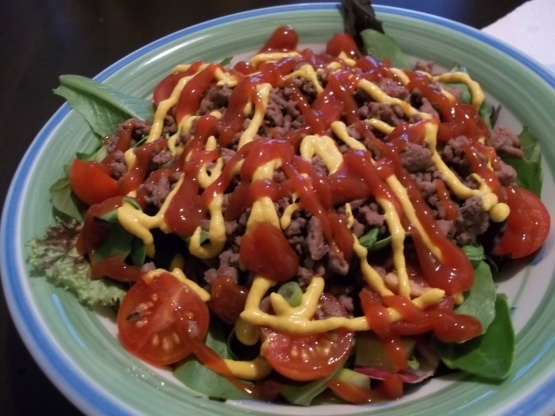 While enduring the Atkin's Induction phase of the Atkin's diet. I was DYING for a Halo Burger, a local burger chain's yummy burger. They do offer the "bunless burger" but I hate those things.. they are difficult to eat and the flavors don't quite meld like the real burger in the bun does. But eating it in a salad makes a world of difference.. I didn't miss the bun at all, plus I'm not advertising that I'm doing the atkins this way.. just looks as if I like salad.Measurements aren't exact..it's just a salad, you can't really mess it up. Feel free to add shredded cheese, bacon, sliced green olives, or whatever you like on your burgers. This is just the way that I like mine. I will be suggesting this to Halo burger as a menu item. Note..if you are craving a Whopper,add liquid smoke to the meat, substitute low carb catsup for the mustard. Craving a Big Mac? Omit tomato, sub onions with dried chopped onion soaked in warm water and use low carb thousand island dressing.
I was very skeptical about this recipe, but I had to try it to see if it really tasted like a burger. It does, surprisingly- I'm impressed. I made the mustard-mayo dressing, but did not like it so I just drizzled ketchup and yellow mustard over this. I think the combination of ketchup, mustard, and pickles really made it taste like a traditional burger.
Brown ground beef and onions with salt, pepper, and garlic powder until cooked through.
Toss while hot with lettuce, tomato and pickles. You want the lettuce to slightly wilt.
In a small bowl, mix together mayo and mustard, then thin it out with heavy cream until thin enough to pour.
Stir dressing into salad mixing everything together well.
This salad tasted best when ingredients are warm or at least room temperature I sometimes heat for about 30 seconds in the microwave.
Be sure to adapt ingredients to include your favorite hamburger toppings.