Light and Luscious Cheesecake Soufflé
PaulaG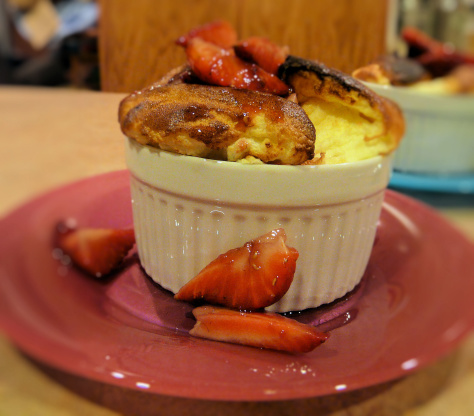 The Strawberry Swap of 2005 inspired me to create my own recipe using these wonderful berries. This light and airy dessert is sinless, delicious and satisfying. For those on Weight Watchers the souffle is Core plus a half point for the fruit spread (you can always omit). For Flexers, it's 2 points total.

Every year, I make my hubs creme brulee for Valentine's Day. Unfortunately, due to doctor's orders, that extra-cholesteroly goodness was out of the question this year. I opted to make this instead and it hit many of the same buttons as creme brulee: sweet, smooth inside with a top that gives a bit of resistance. I made the actual souffle per the recipe, except for using regular cane sugar, and used vanilla extract. I also topped it with homemade lemon curd and a few sliced strawberries. They baked 28 minutes and, once I pulled them from the oven, I let them sit in the water bath for another 10. This recipe was much easier to make than I'd thought souffle would be, and the end result was very tasty. I dropped a star because: 1) I could've at least doubled the vanilla. I couldn't taste it at all. It'd also up the "faux brulee" quotient. 2) I also didn't get any "cheesecake" vibe from this, either in taste or texture, and I got a definite "EGG". I have to wonder how this would work out with whipped, slightly thinned light cream cheese? Cheesecake flavored yogurt? Mmmm... Overall, this is a GREAT recipe that will just require minor tweaking to satisfy my palette. The hubs gave it 5 stars, however.
Preheat oven to 375 degrees.
Puree the cottage cheese until there are no lumps. Add Splenda to taste, egg yolk, vanilla and a dash of cinnamon.
In a separate bowl whip egg whites to soft peaks. Add a dash of cream of tartar to stabilize if needed.
Gently fold the egg whites into the cottage cheese mix.
Pour into 2 ramekins until it just below the lip to allow for rising. Place ramekins into a larger baking pan and fill with boiling water until the water comes two-thirds up the sides of the ramekins. (I use a loaf pan.).
Bake souffles for 28-30 minutes until golden brown on top.
Mix the fruit spread and water together. Add strawberries and mix.
Serve warm souffles with berries spooned on top.