Lemon Granola Chicken Salad #RSC
lbonwill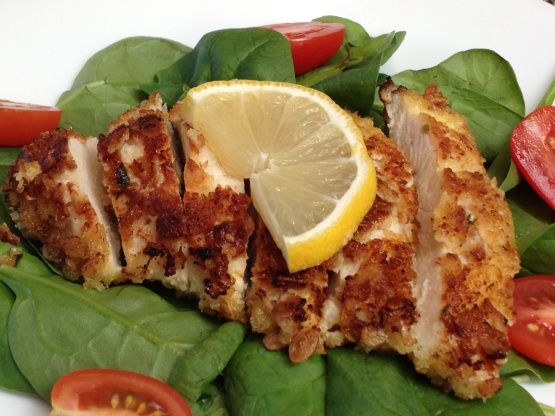 Ready, Set, Cook! Hidden Valley Contest Entry. This recipe is so tasty using slightly sweet granola on chicken breast. It locks in the juices keeping the chicken breast nice and moist. The combination of the other ingredients makes this a dish, your family, will ask you to make over and over again.

I would love a big bite or three of this one ! Looks so juicy and the flavors must be awesome !
1. In large skillet heat about 1/4 cup olive oil on medium heat.
2. Slice chicken breasts in half creating 6 pieces, season with salt and pepper.
3. In small bowl combine egg and dressing, beat.
4. In additional small bowl combine ground granola and bread crumbs, season with salt and pepper.
5. Dip each chicken breast into egg/ranch then coat in granola/bread crumbs, covering completely.
6. Add to skillet and brown on each side until done.
7. squeeze lemon juice over top of chicken.
8. Serve on top of fresh spinach, dressing and favorite salad ingredients.