Kelly's French Silk Chocolate Pie
Dine Dish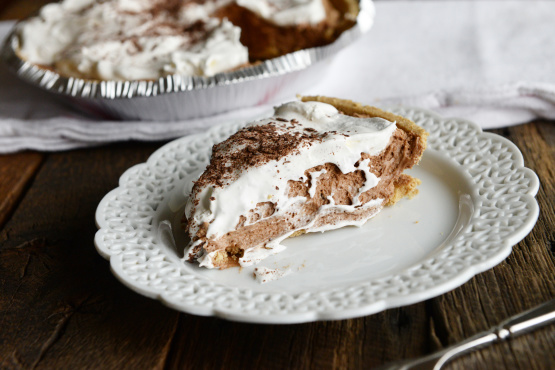 This pie is to die for, and my most requested pie, too! Easy to make, very rich! Happy to share! Enjoy! :)

My Aunt Karen has been making this recipe for years. I finally asked her for the recipe and was surprised at how easy it is to make. You absolutely MUST continue beating the butter until the sugar granules disappear into it (5 minutes), and then you must beat each egg in seperately (approx 5 minutes each.) This makes it time consuming, and practically impossible to whip by hand. In fact, a Kitchen Aid type mixer will really work the best, but I have also done it with an electric hand mixer in a large bowl. Other than the time involved, it is very simple and completely delicious. My husband says it is "the height of decadence" and everyone I serve it to asks me for the recipe. Try it!
In microwave, melt chocolate, set aside to cool.
In medium bowl, cream butter, gradually add sugar, cream well.
Mix in melted, cooled chocolate and vanilla.
Add eggs 1 at a time, beating 5 minutes each, and scraping sides of bowl often to incorporate all sugar.
(Beat until no longer any grains of sugar).
Spoon and smooth into pie crust.
Chill until set, about 1 hour.
Serve topped with Cool Whip, chocolate shavings and a maraschino cherry.
*Double this recipe for a 9-inch deep dish pie.
Variations: add, in addition to vanilla, 1 teaspoons peppermint extract, tint Cool Whip pink for Valentines day, green for St Patty's day.
Top with crushed peppermint sticks/candy canes just before serving for Christmas.