Kabak Mücveri (Turkish Zucchini Fritters)
MsPia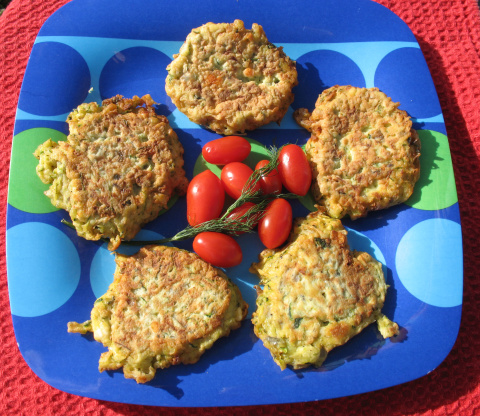 Fritters are very popular in the Middle East. They are eaten hot or at room temperature as a vegetable side dish or a meze. It couldn't be simpler to make, but you can dress it up with optional garnishes of black olives, tomatoes, or hard-boiled egg. The perfect use for small, sweet new zucchini. Serve alone or with a creamy garlic-lemon yogurt sauce for a perfect complement to any spicy or grilled foods that call for a cooling accompaniment.

These are really good. The first batch I cooked off were ok...and then I noticed I hadn't added the cheese. I did add quite a bit of salt, but I will make again. They also didn't raise my sugars, which is a huge plus. Oh, and I added more onion, green onion, fresh parsley, and some swiss chard just to use up more produce from the garden...just chopped it all up well.
Grate the zucchini and place in a colander; sprinkle with salt and let drain for 30 minutes; squeeze out moisture and pat with paper towels.
Place the zucchini in a bowl and add the green and yellow onions, dill, parsley, cheese, eggs, flour and salt and pepper to taste; mix well.
In a large sauté pan over medium-high heat, pour in oil to a depth of ¼ inch; when the oil is hot, drop the batter by heaping tablespoonfuls into the pan (or form into small patties), allow space in between fritters; fry for 2 minutes on the fist side, then turn to brown on the second side for about 3 minutes; using a slotted spatula transfer to paper towels or newspaper to drain; repeat with remaining batter.