loof751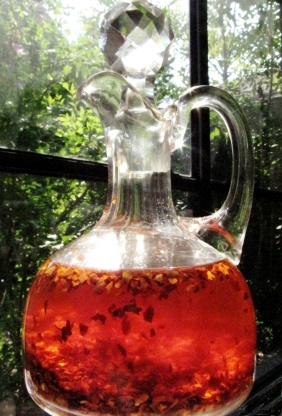 Use this to season and flavor ingredients to liven up any recipe. The oil can last indefinitely refrigerated. Original from the Cuisine of California

I used this oil last night when I made Nimz' Recipe #237746, #237746. It has a great spicy flavor -- and gets hotter as it hits the back of your mouth. I strained out the pepper flakes because they kept coming out of the bottle when I poured the oil, and I wanted a clear oil. The oil won't get any hotter because I took out the pepper flakes, but I love it just the way it is anyway! Thanks for another good recipe, Nimz.
Combine pepper flakes and oil in a saucepan over medium heat.
Bring to a boil then immediately turn off heat.
Let cool.
Leave pepper flakes in oil.
They will fall to the bottom and the oil can be used in seasoning.
The oil will become hotter as it stands.